Venue
Looking at the map of Europe we can find that Prague is really a focal point, heart and centre of the continent. However, Prague is not only the geographical centre of Europe, but also a place where for centuries different nations were mixing and different cultures were merging, influencing each other. Those who walk through Prague walk through the history of Europe and its cultural streams follow the traces of reformers, artists, rulers, army leaders, who influenced this continent as far as ideas, art and politics are concerned.
Prague is the capital and largest city of the Czech Republic. It is the fourteenth-largest city in the European Union. Situated in the north-west of the country, the city is home to about 1.3 million people, while its larger urban zone is estimated to have a population of nearly 2 million. The city has a temperature oceanic climate, with warm summers and chilly winters, average temperature 9 ºC, in the summer season 19 ºC, and in the winter season 1 º C. The main river is called Vltava and flows through Prague with a total length of 31 km, its widest point is 330 m and it has 9 islands. There are very different bridges that cross this river, 18 bridges in total, including a railway bridge and a tram bridge. In the city is possible to find about 500 towers and relaxing gardens and parks covering about 870 ha.
Main attractions include the Prague Castle, the Charles Bridge, Old Town Square, the Jewish Quarter and Petrin Hill. Since 1992, the extensive historic centre of Prague has been included in the UNESCO list of World Heritage Sites. The city boasts more than ten major museums, along with numerous theatres, galleries, cinemas and other historical exhibits.


The Conference will be held in the building of the Czech Association of Scientific and Technical Societies (CSVTS), Novotného lávka 5, Praha 1, in the historical center of Prague next to Charles Bridge.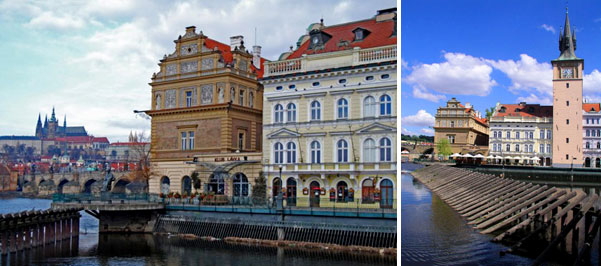 Transport connection: the subway green line A – get off at the stop "Staroměstská"(A), then walk five minutes to Charles Bridge or take the tram 18 or 17 (B) to the next stop "Karlovy lázně"(C) then 1 minute walk backwards to Novotného lávka (D).